Let me get this out of the way: Of course my perfect day would be spent with my husband, but if I was forced to take a solo-style day, sans kids and marital partner, here's approximately how it would go:
1. Wake up at 7:30 am (yes, I'm an annoying morning person.) in this bed:
After a fabulously leisurely stretch, including some inspirational hoots and squawks, I would take a little walk to get the blood flowing and limber up the brain.
Here, of course:
Next stop:
……with my laptop for some blogging and eavesdropping and iced venti green teas with 4 pumps of sweetener and easy water.
I think next I would pop into a yoga class. Look- this is me! Oh, wait no it's not.
This brings us to lunchtime, so first I would shower with really expensive amazingly botanical products, then I would eat the freshest salad on planet earth, with a million things in it, drink a delicious glass of dry Riesling from Heron Hill, and then I would so fucking take a nap it wouldn't even be funny. After reading some of whatever freaking awesome novel I'm reading. Hunger Games? Tina Fey?
3:00 means I paint for two hours, blasting music: choose from Clap Your Hands Say Yeah, Amy Winehouse (dead), or the British version of Evita from 1978. OHMY. did I just write that out loud?
5:00 rolls around, and I pick up the kids wherever they happen to be, get them all pretty, most likely in matching dresses. Then it's 6:00, when Christian appears, just in time for us all to sit down to our catered dinner here:
Let's see…. for dinner we'll have lobster bisque, filet mignon, wild rice and salad. OR miso soup, sushi, edamame. Profiteroles are a must for dessert, so let's go with the lighter Japanese food. Burp.
Movie time!!!!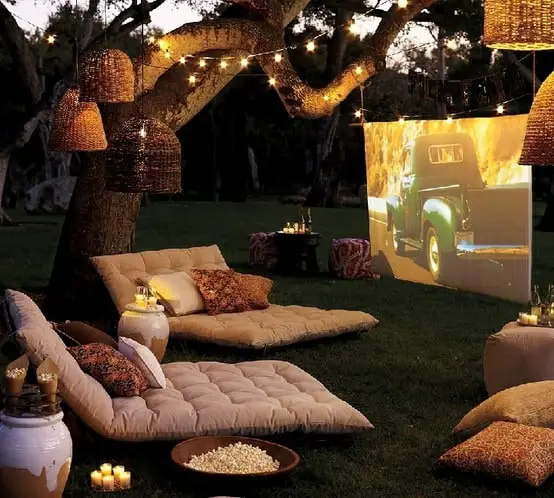 I don't wanna watch an old green truck movie, so we'll watch Pee Wee's Big Adventure.
***Uh oh! Bed time kids. Too bad- we'll miss you.***
…..but Dad and I need to go swimming here:
….before retiring back into our kick-ass bed. (Please refer to photo #1.) Sweet dreams.